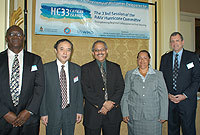 The 33rd Session of the Region IV Hurricane Committee opened at Grand Cayman's Ritz-Carlton on Tuesday, 8 March.
It was hosted by the World Meteorological Organisation (WMO) in association with the Cayman Islands National Weather Service (CINWS), and the Ministry of District Administration, Works, Lands and Agriculture.
Speaking at the opening, Deputy Premier and Minister for Works the Hon. Juliana O'Connor-Connolly, JP underscored the critical role that meteorological services across the region play in providing early warning, enabling populations to effectively plan for weather disasters.
"I give you all full credit for your commitment and diligence which have saved many lives and protected property across the region," she said.
The minister further encouraged the regional experts to continue to pool their expertise and to strengthen their early warning collaboration. "The role you play and the information you provide are only as good as the extent to which you share with your regional counterparts," she commented.
The conference brought together more than 70 delegates from 26 countries in North, South and Central America as well as the Caribbean, including representatives from the National Hurricane Centre in Miami.
The purpose of this annual event is to enable regional experts to review collective early warning technical and operational plans prior to the start of the Atlantic hurricane season. The agenda includes selecting new hurricane names and retiring some others.
Region IV Hurricane Committee President Arthur Rolle noted that technological and other regional improvements have enabled meteorological services and Miami's National Hurricane Centre to give earlier warnings to area populations.
"Successful new warning mechanisms have enabled us in Region IV to improve Hurricane Watch from 24 to 36 hours and to take Hurricane Warning time from 36 to 48 hours," Mr. Rolle said.
He noted that this week also, officials will see how the region's early warning success might be further improved.
In his turn, WMO's Tropical Cyclone Programme Division Chief Koji Kuroiwa referred to regional vulnerability to tropical cyclones, noting the importance of countries coming together to merge ideas and warning systems.
And speaking for CINWS, Director General Fred Sambula said that Cayman, which is hosting this hurricane committee meeting for the first time, will benefit from the data and cumulative technical expertise that is on hand, enabling the local weather service to better educate its population.
"The key for us is taking everything that is discussed and packaging it in a way that the community can understand it," he said.
The Region IV conference ran until Friday (11 March).