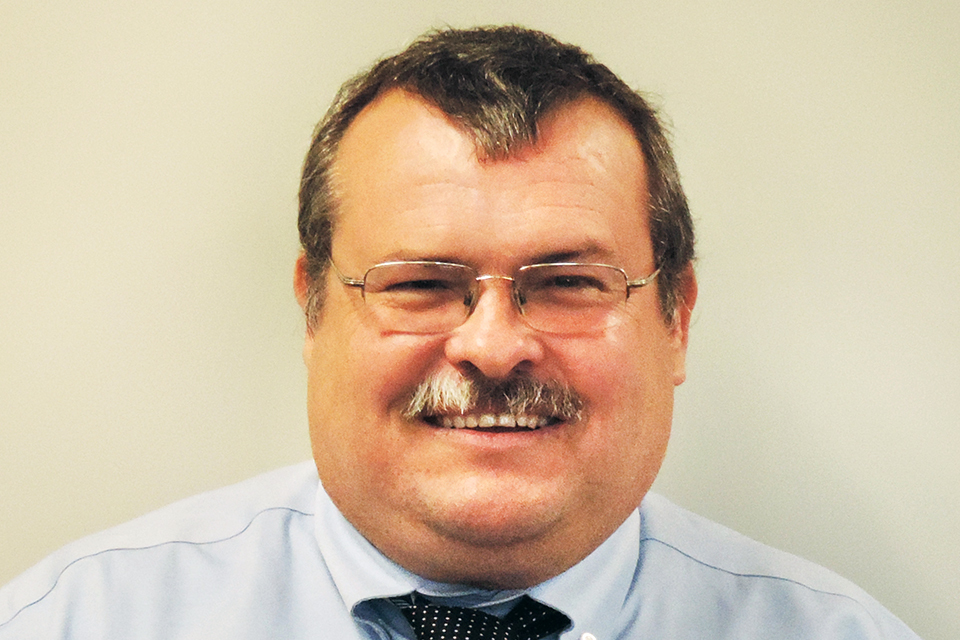 Newly-appointed Cayman Islands National Weather Service (CINWS) Director General John Tibbetts may have a very specialised role, but he maintains a global perspective on other aspects of life – which allows him a wide appreciation of the implications of the work of his office.
A dedicated professional with over 30 years of service, he worked for the past 14 years as CINWS' Operational Supervisor. In this position, his diverse responsibilities included human resources and training issues, as well as assisting former Director General Fred Sambula with budgets and other management-level matters.
Minister Moses Kirkconnell welcomed the appointment, saying that this demonstrates a model civil service career path, as well as Government's commitment to developing this vital national service. Additionally, Chief Officer Stran Bodden expressed satisfaction that succession planning, alongside a career characterised by outstanding service, resulted in this appointment, which became effective on 1 July, 2014.
Mr. Tibbetts' career in weather forecasting began in 1984, when he was hired as an observer, responsible for monitoring and recording weather conditions. He soon moved on to the post of Operational Weather Forecaster, responsible for producing daily forecasts, as well as weather-related warnings for the public and the aviation industry.
In 1999 Mr. Tibbetts was promoted to Chief Meteorologist of the MET office under the Cayman Islands Airports Authority, responsible for the daily supervision of the weather service. In 2010 the MET Office was changed into the Cayman Islands National Weather Service. His formal education over the years included obtaining a bachelor's degree in science (major in operational meteorology) from Mississippi State University. Mr. Tibbetts was trained as an operational weather forecaster in the regional training center at the Caribbean Institute of Meteorology and Hydrology in Barbados in 1986. Comfortable whether communicating with pilots and air- traffic services personnel, regional forecasters or the general public, Mr. Tibbetts also displayed a consistent ability to successfully analyse and interpret weather charts, and to teach staff scientific methods for the production of weather forecasts and warnings.
A key role was to liaise with government officials and the media in times of severe weather threats, supplying current information so decision-makers could plan and mitigate the effects of the inclement weather. Other duties were ensuring the daily scientific analysis and interpretation of surface- and upper-air meteorological data; as well as producing weather forecasts and information for marine, aeronautical, public and private use.
He notes as a career highlight the experience of hurricane Ivan in 2004; when, as key members of the National Emergency Operations Committee, he and Mr. Sambula provided information to government and the general public.
The effect of Hurricane Paloma on Cayman Brac were also concerning, as he has close family ties there.
Mr. Tibbetts also points to the subsequent formation of Hazard Management Cayman Islands and the National Weather Service after Ivan as important milestones in the evolution of hurricane preparedness and meteorology in the Cayman Islands.
Some of the more innocuous aspects of his work include ensuring that all meteorological equipment is properly maintained and accurate according to international standards; and liaising with regional weather services, the Caribbean Meteorological Institute and the World Meteorological Organisation to enable advanced training for CINWS staff.
While many have assisted in his development, Mr. Tibbetts credits his predecessor, Mr. Sambula, for contributing the most to his career path.
When not at work, he enjoys varied interests – from playing online chess, to youth-related concerns. While he consecutively offered more than two decades of Christian service as a youth worker, his involvement in that role is more informal these days. Similarly, his participation as a competitive volleyball and football player in the intergovernmental league has subsided – but he still maintains his interest from the sidelines.
He and his wife Kathy are also kept busy with their two children John Jr. and Jessica.