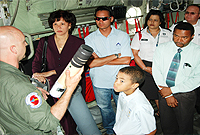 Hundreds of people turned out to welcome the Hurricane Hunters to the Cayman Islands yesterday (Wednesday, 23 March).
Groups of residents, from policy makers to students, toured the WC-130J Hercules aircraft and spoke with crew members at the Owen Roberts International Airport.
Ministry of District Administration, Works, Lands and Agriculture Chief Officer Kearney Gomez, MBE, JP welcomed the pilots and crew. He also expressed thanks for their willingness to share official information and educate the public on hurricanes.
Officials who toured the plane included His Excellency the Governor Duncan Taylor CBE; Deputy Premier and Cabinet Minister the Hon. Juliana O'Connor-Connolly JP.
Also visiting were Financial Secretary the Hon. Kenneth Jefferson, JP; District Commissioner Ernie Scott and department directors from Immigration, Public Works and Environmental Health.
Cayman Islands National Weather Service Director-General Fred Sambula and Hazard Management Cayman Islands Director McCleary Frederick expressed their appreciation of the visit.
"This is critical to enhancing public awareness and education in the areas of hurricane preparedness and mitigation," said Mr. Sambula.
National Hurricane Centre (NHC) in Miami Director Bill Read was another special guest. "No one else in the world flies these reconnaissance airplanes," he said. "Their overseas visits serve to demystify their work, while encouraging leaders and others to keep hurricane preparedness at the forefront."
He added, "By using the Hurricane Hunters' readings regarding the size, intensity and structure of wind fields, the NHC can improve track forecasting by about 15 percent."
Mr. Read also expressed appreciation for the long-standing relationship with Cayman, and was equally appreciative about the success of the 33rd Session of the Region IV Hurricane Committee, recently co-hosted by Cayman and the World Meteorological Organisation.
Hurricane Hunter missions cover a vast area - from the Atlantic to Hawaii - and crews often simultaneously track several storms.
"It's like being on a rollercoaster ride and in a car wash at the same time," said Chief Pilot, Lt Col. Dave Borsi. "While the airplane can manage sustained heavy weather, even category five hurricanes, it is often smaller, disorganized systems which result in more turbulence. It can be dangerous, but that's why we train hard. It's all in the public's interest."
He explained that as the aircraft heads into a storm, pilots slow to about 200 miles per hour to allow by-the-second gathering of compressed data.
(GIS)